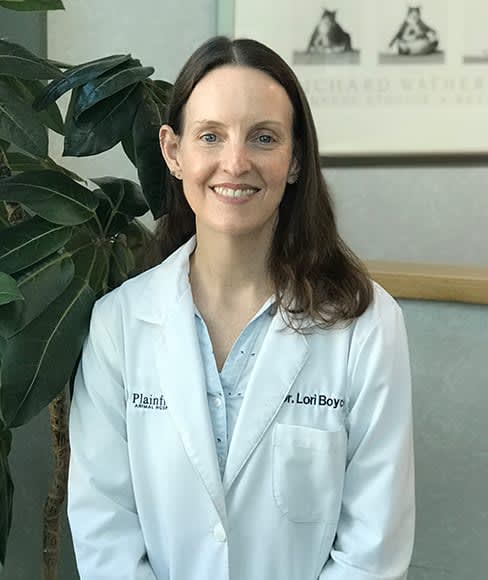 Dr. Lori Boyce
Associate veterinarian Lori Boyce has cared for pets at  Plainfield Animal Hospital 2008. She grew up in Audubon, New Jersey and has always loved working with animals. As a veterinarian, she has witnessed the strength of the human-animal bond and is proud to have helped preserve that bond by keeping animals healthy.
She completed her undergraduate education at Muhlenberg College and graduated magna cum laude in 2002 with a Bachelor's degree in Biology. While an undergraduate, she was inducted into the Phi Beta Kappa honor society. Dr. Boyce went on to complete her veterinary education at Tufts University's Cummings School of Veterinary Medicine. During her four years in veterinary school, she made the Dean's List each year. She was awarded her Doctorate of Veterinary Medicine in 2007. Following veterinary school, Dr. Boyce completed a 13-month internship in small animal medicine and surgery at the Oradell Animal Hospital in Paramus.
Internal medicine, anesthesia, exotic animal and zoo animal medicine, and oncology are among her many professional interests.
At home, Dr. Boyce enjoys the companionship of her cranky but lovable cat. Her pastimes include reading, watching movies, eating ice cream, going to museums and zoos and attempting to cook and bake. Most of all, she loves spending time with her family.