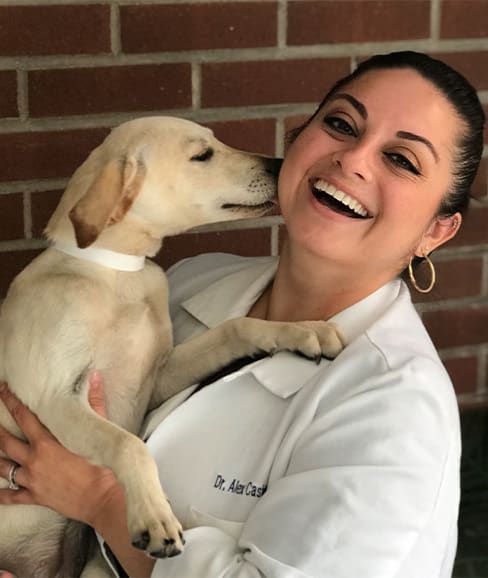 Dr. Alexandra Castellanos-Figueroa
Dr. Alexandra Castellanos-Figueroa (Dr. Alex) is an Associate Veterinarian at Plainfield Animal Hospital. Her professional interests include animal behavior, surgery, and end-of-life/hospice care. She is a member of the American Veterinary Medical Association and has been working in the animal health field for over 10 years.
Dr. Alex has always had a love for animals, but after adopting her first dog, she knew she wanted to be able to help them all! Dr. Alex loves developing a relationship with a pet and its caregiver. Her most memorable career moments are from when she was able to give animals a second chance at a new life.
Dr. Alex is originally from Paramus, NJ. She graduated from Montclair State University with a BA in Biology. She later attended Tuskegee University where she graduated with a Doctor of Veterinary Medicine. Dr. Alex also has a BA in Criminal Justice and has worked in the legal field.
At home, Dr. Alex takes care of 1 dog, 3 cats, and 2 turtles. They have all been rescued by her!
When she is not at the office, Dr. Alex loves to hike, read, travel with her husband, and do anything creative. She can speak fluent Spanish and is working on her French!