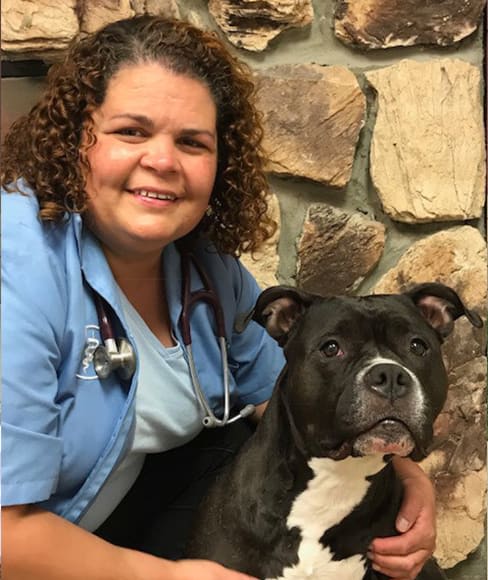 Dr. Isabel Perez
Dr. Isabel Perez has returned! Dr. Perez began her career at Plainfield Animal Hospital 23 years ago and is excited to be back working with former colleagues and patients. She continues to be the shelter vet for the Union Township animal shelter and is also the Medical Director at our sister hospital, All Creatures Great and Small in Fairfield, NJ. 
Dr. Perez's veterinary medicine interests include: dermatology, canine and feline medicine, exotics (birds, reptiles, rabbits), and surgery. She is certified in ultrasound and stem cell therapy. She also has a special interest in geriatric medicine and end-of-life care, behavioral issues, and nutrition.
Dr. Perez says, "Being a vet is very rewarding for me. I am so thankful to be able to bond with my patients and their humans. We are given the opportunity to make a great impact on the human-animal bond." She enjoys working with and has extensive experience with bully breeds and other large breeds such as Dobermans and German Shepherds. She also enjoys working with cats.
Dr. Perez received her BS in animal science at Cook College, Rutgers University and her Doctorate in Veterinary Medicine from Tuskegee University School of Veterinary Medicine. She was born in Cuba and grew up in Union City, NJ. She is bilingual and fluent in Spanish.
When not in the office, Dr. Perez takes care of her "extended family", which includes: 3 dogs, 1 cat, a rabbit, a horse, a parrot, a Red Eared slider, and 4 Koi! She also works very closely with several rescue and foster groups. Helping animals in need is very dear to her heart!