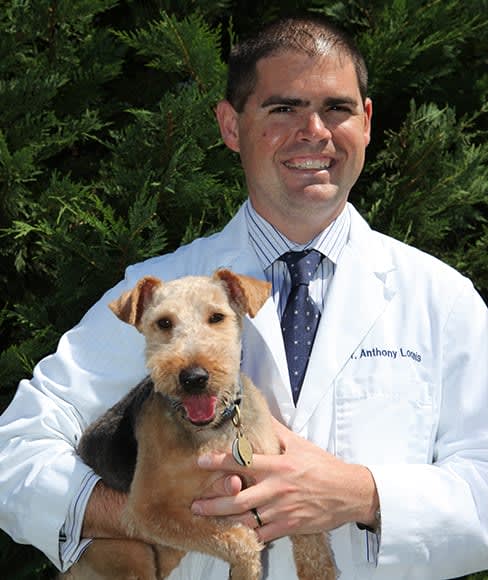 Dr. Anthony Loomis
Originally from Scotch Plains, Dr. Anthony Loomis attended the University of Georgia and graduated with a B.S. degree in Animal Health in 2001. Following graduation, he was admitted to Oklahoma State University School of Veterinary Medicine on scholarship from the state of New Jersey and was awarded his Doctorate of Veterinary Medicine in 2005.
During his four years as an undergraduate student and his four years in veterinary school, Dr. Loomis was recognized for his academic excellence; he was inducted into the University of Georgia Honor Society, made Dean's List, and was added to the president's honor roll. At Oklahoma State University, he was inducted into the National Veterinary Honor Society, made honor roll, and received the World Animal Care Foundation Award for promoting the human and animal bond.
With professional interests in exotic animal medicine and surgery, Dr. Loomis is a member of the American Veterinary Medical Association, the American Animal Hospital Association, the New Jersey Veterinary Medical Association, the Association of Avian Veterinarians, and the Association of Reptile and Amphibian Veterinarians. Now living in South Plainfield, Dr. Loomis has been practicing general veterinary medicine and surgery at Plainfield Animal Hospital since May 2005 and also provides housecall services to clients wishing to care for their pets in the comfort of their home.
Dr. Loomis and his wife, Michelle, have a son named Rocco, a daughter named Emma, and 2 dogs (Munchkin and Surf). During his leisure time, Dr. Loomis enjoys sports and relaxing with family and friends at the Jersey Shore.